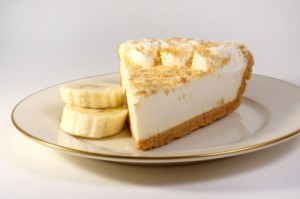 Preparation time : 20 min + 1 hr. Chill time | Serves 6-8 persons
This banana pie recipe is prepared with banana pudding mix alongwith vanilla pudding flavor hence become more tempting. The pie can give more delicious flavor if it is kept in fridge for overnight so that it stets properly and easily cut into pieces.
Ingredients
1 pie crust
8 oz cream cheese (softened)
1-2 oz instant vanilla pudding
3 oz instant banana cream pudding
½ ltr milk
1 cup cool whip
Bananas (sliced for layering)
Crushed crunch for topping
Procedure:
1. Bake pie crust according to the instruction mentioned on the package and then cool to room temperature.
2. To prepare pie filling beat cream cheese to make it smooth and soft.
3. Gradually add milk and make smooth batter.
4. Add both pudding mixes and beat at slow speed so that no lumps would be there.
5. Now fold the batter with the whipping cream and set aside.
6. Make layer of the bananas at the side of the pie crust and pour half of the batter on the crust, now make layer of sliced bananas onto the batter and then pour rest of the batter. In the end top with some remaining sliced bananas and crunch and chill for at least an hour.
photo source : 1