If you are looking for an affordable solution to replace those high price chafing dishes then chances are that this disposable chafing dish kit will fit nicely in your budget. It is a 25 piece disposable chafing rack kit that will also save you a log of storage space as well as cut down the weight you carry. If you plan to use it more often then it is recommended to get regular stainless steel chafing dish instead. Continue reading below to learn more about this Kingsman chafing kit.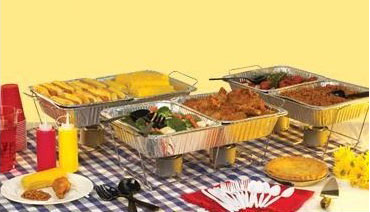 [asa]B0032GHYU8[/asa]
This disposable chafing dish kit has a total of 25 pieces including:
1 x table cloth
3 x Chrome plated wire chafing stands
3 x Aluminum water pans
6 x Aluminum food half pans (disposable chafing dish)
6 x Chafing fuel cans
3 x Plastic serving spoons
3 x Plastic serving forks
This kit will be enough for any party as you can vary the number of chafing pans. Using this kit is very simple and easy. Just pour appropriate amount of hot water in water pans, add hot food and if necessary you can even light the chafer fuel cans underneath each aluminum food pan which will keep the food hot for long.
Although this Kingsman disposable chafing dish kit is for one time use but if you are willing to clean it after use then you can even use these more than once. Aluminum material in this disposable kit makes cleaning super easy. These are suitable for those who conduct parties once in a while and are not willing to spend 10 times more on regular chafing dishes. If you plan on using these more than twice a year then we recommend you get yourself regular chafing dishes.
Where To Buy Disposable Chafing Dish Kit ?
You can buy this Kingsman Disposable chafing dish pack from Amazon.com (with FAST shipping) at a special discount price. You can also browse the list of other best selling chafing dishes online. The list is updated every hour.