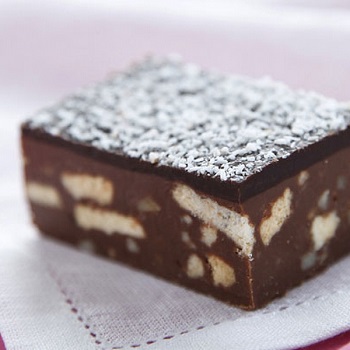 Preparation time : 20 mins. + Refrigeration time | Serves 16-18 slices
This Hedgehog Slice Recipe is one of a kind of biscuit chocolate cake prepared with nuts, biscuits and chocolate. The taste is quite similar to fudge chocolate brownies but it doesn't have uniform chocolate texture. Some areas are covered with dark chocolate while the lighter areas are occupied with biscuits and nuts.
Ingredients:
1 pack Marie biscuits
½ cup desiccated coconut
½ cup coarsely chopped walnuts
2 tbsp cocoa
1 cup dark chocolate (melted)
1 stick butter
1¼ cup condensed milk
For Topping:
1½ cup dark chocolate melts
1 tbsp vegetable oil
Coconut flakes as required
Procedure:
1. Coarsely chopped biscuits by putting them into the plastic bag.
2. Combine chopped biscuits, coconut, walnuts and cocoa in a mixing bowl.
3. Take a saucepan, add dark chocolate, butter and condensed milk and cook over low heat for 5 mins. or until all the ingredients incorporate well and make smooth thick batter.
4. Now combine together biscuit mixture and chocolate mixture and stir well to mix evenly.
5. Take a grease pan and firmly press the mixture into the pan. Refrigerate the pan for half an hour or until it sets well.
6. Meanwhile prepare topping, combine chocolate melts and oil in a pan and heat over boiling water until all the chocolate melts.
7. Spread the sauce over the prepared hedgehog and again put in refrigerator for 30 mins. to set.
8. When the hedgehog gets firm and sets nicely, cut it into slices using hot knife and serve with topping of coconut flakes.
photo source : 1