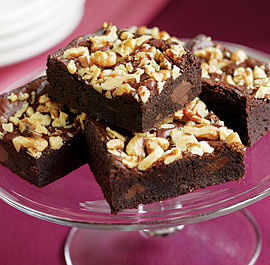 Preparation time : 35 mins. | Serves 8 persons
This is one of tempting fudge brownies recipe for the chocolate lovers, the brownie is prepared with cocoa and the amount of cocoa can be reduced if you don't want more chocolate flavor.
Ingredients:
100 gm butter
¾ cup flour
1 tsp baking powder
4 tbsp coco powder
1 cup caster sugar
1 tsp vanilla essence
3 eggs
2 tbsp milk
½ cup chopped pecans
½ cup chopped walnuts
Fudge Frosting:
3 tbsp butter
3 tbsp coco powder
½ cup icing sugar (to taste)
1 tbsp milk
Procedure:
1. Preheat oven to 350 degrees F.
2. Sift together flour, baking powder and coco powder.
3. In a large mixing bowl, combine dry mixture, butter, sugar, vanilla essence and eggs and beat them together at medium speed for just 3 mins so that smooth batter would form.
4. Add milk if the batter looks too thick.
5. Fold the batter with the nuts using spatula.
6. Now take a greased baking tray and pour the batter on it, place it in preheated oven for 25-30 mins or until become ready.
7. After that take it out from oven and cool to room temperature.
8. Meanwhile prepare frosting for the brownies, for that you need to mix all the ingredients mentioned for the frosting and make a thick paste.
9. Now make a layer of this fudge onto the top of brownie and make pieces of fudge brownies for serving. You may also top the brownies with chopped nuts.
photo source : 1