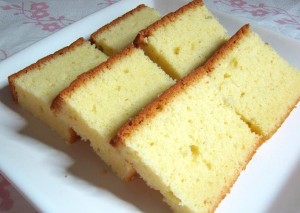 Preparation time : 90 min. | Serves 12 persons
This butter cake recipe is also knows as Kentucky butter cake and is specially prepared in Bundt pan. The cake is quite soft due to the milk and buttermilk as well as the butter syrup which is poured in the end keep it moist so it don't get dry.
Ingredients:
3 cup all purpose flour
1 tsp baking powder
1 tsp salt
½ tsp baking soda
1 cup butter
2 cup sugar
4 eggs
1 cup buttermilk
2 tsp vanilla extract
For Butter Syrup:
1 c sugar
¼ c water
½ c butter
1 tsp vanilla extract
Procedure:
1. Preheat oven to 350.
2. Sift together dry ingredients including flour, baking powder, baking soda, and salt and set aside.
3. In a large mixing bowl cream together butter and sugar until become light and thick.
4. Add eggs one by one and beat until become fluffy.
5. Add buttermilk and mix it into the batter so that air remains in the batter.
6. And in the end slowly add dry mixture until become uniform batter.
7. Pour the batter in a greased bundt pan or in any suitable baking pan. Bake for at least 50 min until cake become light golden brown from top and bake properly form inside.
8. Meanwhile prepare butter sauce for the cake and for that you need to prepare syrup in a pan by heating sugar, water and butter together. When sugar dissolve completely remove the pan from heat and then add vanilla extract to the sauce.
9. When cake becomes ready poke small holes in the surface and then pour the prepared butter sauce over the hot cake. Cool the cake to room temperature and then serve after cutting it into pieces.
photo source : 1