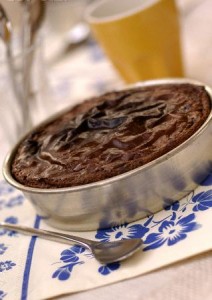 Preparation time : 45 min. | Serves 2 (8 inch) rectangular cake
This cake is prepared with custard hence its name custard cake, in this recipe chocolate flavor is used to prepare custard. It takes the same time as other cake takes, for this cake you need to prepare custard for the cake and then follow the same method as you do for other cakes. This cake can also be one of a great Halloween cake if it is decorated with some colorful candies and chocolates.
Ingredients:
2 tbsp unsweetened cocoa
½ cup milk
1 egg (lightly beaten)
2/3 cup sugar
½ cup shortening
1 cup sugar
2 egg yolks (beaten)
2 cup cake flour
¼ tsp salt
1 tsp baking soda
1 cup milk
For Frosting:
¼ cup water
2 tbsp butter
½ tsp vanilla
2 oz unsweetened chocolate (melted)
2 cup powdered sugar
Colorful Sprinkle
White candies
Procedure:
1. Preheat oven to 350 degrees F.
2. To prepare chocolate custard, combine cocoa, ½ cup milk, whole egg and 2/3 cup sugar in a sauce pan.
3. Cook custard at low heat until becomes thick, stir in between so that it would not get stick at the bottom.
4. Meanwhile beat shortening and sugar until become creamy in texture.
5. Add egg yolk and beat again for 1-2 min at high speed.
6. Sift together dry ingredients including flour, baking powder and salt.
7. Add 1 cup milk, dry mixture1 cup milk and vanilla to the yolk mixture and mix well.
8. Now remove the pan of custard from heat and mix it with the flour mixture.
9. Pour the batter in suitable cake pan (greased) and then bake for 25 to 30 min. until become done.
10. Meanwhile prepare frosting for the cake, for that heat water and butter.
11. Add sugar, chocolate and vanilla after removing pan from heat and then beat until frosting becomes thick.
12. When cake has been done cool it to room temperature and cover the cake with the prepared frosting. For making it Halloween cake, decorate it with colorful sprinkle and white chocolate candies by making different shapes on top. The techniques of decorating cake or desserts are described in previous Halloween recipes.
photo source : 1