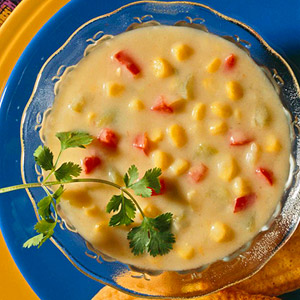 Preparation time : 60 min.
This corn dip recipe can be served with any fried stuff or even with spaghetti. Its method of preparation is very simple you only need to combine ingredients and then cook in slow cooker. This dip is usually served hot.
Ingredients:
16 oz cream cheese (softened)
1 cup butter (softened)
30 oz white corn (drained)
28 oz diced canned tomatoes with green chili peppers
1 cup cream
Procedure:
1. In a slow cooker, put all the ingredients and mix well. Cook them together at low setting og cooker until all the cream cheese and butter melts completely and all the flavors blend well.
2. After that take out the prepared dip in bowl and serve with chopped tomatoes and cream.