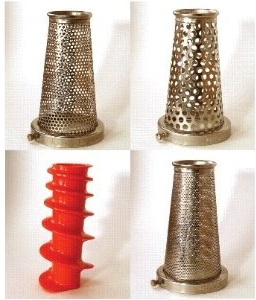 [asa]B002SVZJ0A[/asa]
For those having a Victorio strainer 250 model or any other compatible models listed below, will take advantage of this strainer screen accessory by Victorio kitchen products. The accessory set is made to fit perfectly and offer long lasting service. Continue reading below to learn more about Victorio strainer screen accessory.
As shown in the picture, this strainer screen accessory set contains four pieces for:
Berries
Salsa
Pumpkin
Grape etc
These screens fit perfectly in Victorio kitchen products VKP250 strainer. Following is the list of other supported strainers for the Victorio strainer screen accessory:
Supported Models
Victorio Model 250
Back To Basics Model 220
Roma Food Strainer
Villaware Model 200
All the Victorio strainer screens are made of top quality stainless steel material that will last for years of use and you are also rest assured that your strainer screen will never catch rust nor corrode. With these strainer screen accessories you can easily enhance the functionality of your food strainer or sauce maker
Where To Buy ?
This Victorio Strainer Screen accessory is available at Amazon (with FREE shipping) at a special 10% discount price.