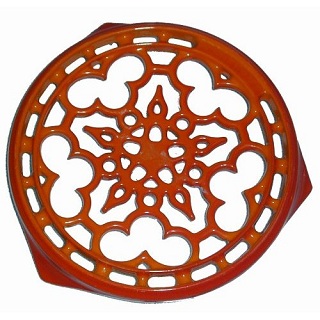 [asa]B00005QFSK[/asa]
Today our review product is a very simple table top item, cast iron trivet. It is Le Creuset cast iron trivet that has been given a perfect shape of artistry as well as elegance. It is a round iron trivet that will allow you to serve hot dishes and pans keeping your table linens and tops 100% safe from damage. Continue reading below to learn more about cast iron trivets.
As you can see from the picture above, it is a round trivet. It measures 9 inches in diameter, 1.4 inches in thickness and weighs 2 lbs. It is an enamel coated trivet which has several layers of enamel that serves as one of the best insulator between the cast-iron trivet and the hot dish plus it also provides protection to the cast-iron trivet from catching rust or corrosion.
The cast-iron Le Creuset trivet is in orange color making it look just about the perfect color to match all types of table tops and linens. These Le Creuset cast iron trivets are dishwasher safe which makes them one of the very few iron trivets that you can clean with ease. Just avoid the use of metal scrub pads to clean these. These cast iron trivets are backed by a lifetime warranty by the manufacturer.
Where To Buy ?
The Le Creuset 9-inch enamel coated cast iron trivet is available at Amazon.com (with FREE shipping) at a special 25% discount price.