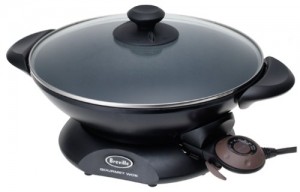 [asa]B00008ZCKM[/asa]
Its a latest upgrade model of wok from Breville which is powered by electricity and variable temperature select features. The Breville Wok EW30XL is a complete non-stick exterior stuff which covers four-ply Quantanium coating along with titanium-reinforced mid-coats. The wok is removable assembly which can be easily separated from the base unit having control features and cord for electric source. And off course another more obvious part is the lid which is made with durable heavy glass lid having steam vent and stainless-steel rim.
This Breville Wok measures 18-1/6 by 15-1/6 by 7-7/8-Inch and weighs 11-4/5-pound and it is designed to prepare variety of delicious food with precise heat controlling. All you can do with this EW30XL electric wok includes, searing, frying, cooking soups, gravy, pasta, rice, stir frying, etc. The control unit attached with the base has assigned various numbers on the dial each number represents the following temperatures approximately.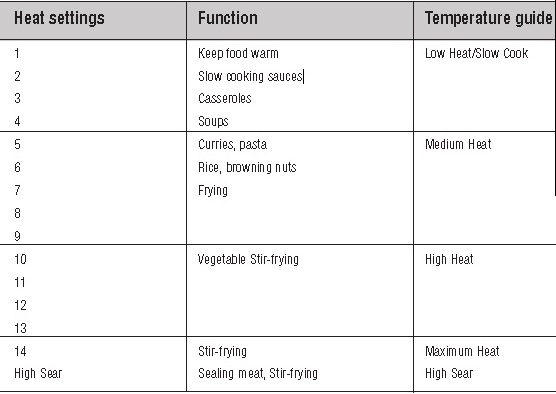 Here we want to guide you more about the temperature control probe of this Breville Wok; it has a light which shows its working. when it goes OFF it means the desired temperature has been reached and cycle ON and OFF during cooking in order to maintain the temperature selected. In addition with above mentioned settings for the temperature, you are really want to utilize it as Gourmet Wok for cooking, then first preheat the wok to "High Sear" setting for 10 mins. then start cooking whatever you want, it really makes difference in cooking time, taste, looks and texture.
As far as cleaning of this Breville Wok is concerned, you can wash the removable wok after cooling it down to room temperature after cooking only with soft cloth and soapy water or you may use dishwasher. While the base unit can be cleaned with damp cloth by taking care of temperature control probe.
Where to Buy?
The Breville Wok EW30XL can be purchased from Amazon Online store at discount price of $96.87 with Free Super Saver Shipping.
What is in the Box?
Breville also includes some necessary accessories with this Breville Wok including:
Temperature indicator light
A booklet of recipes and tips
A plastic spatula