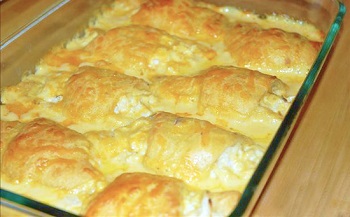 Preparation time: 50 mins. (approx.) | Serves 6-8 persons
This Chicken Crescent Casserole is a simple and easy casserole prepared with stuffed crescent rolls. You can make lots of variations to this casserole, for instance; you can also use cream of mushroom soup instead of cream of chicken soup. The addition of mushrooms and onion in the stuffing also increases its taste.
Ingredients:
1 pack of crescent rolls (thawed)
2 cups cooked chicken (chopped)
1 tbsp butter (softened)
1 tsp garlic (minced)
½ cup cream cheese
2 cup cream of chicken soup
2 cup milk
1 cup shredded cheddar cheese
Procedure:
1. Combine cooked chicken, cream cheese, garlic, butter, and ½ cup of milk and make a uniform batter.
2. Place 1 heaping tbsp chicken mixture on top of each crescent triangle, then start rolling from the wider end to seal the filling completely. Similarly, prepare the rest of the rolls.
3. Combine soup and the rest of the milk in a separate bowl and mix them well.
4. Now take a suitable casserole dish, spread some soup mixture at the bottom then place the stuffed rolls over the soup.
5. When all the rolls are placed well in the dish pour the rest of the soup mixture onto the rolls and finally sprinkle the shredded cheese.
6. Place the pan in preheated oven at 350 degrees F for 30 mins. until the cheese melts completely and starts bubbling.
photo source : 1