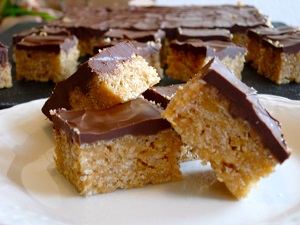 Preparation time: 20 mins. + Refrigeration time | Serves 16-20 bars
This Scotcheroos Recipe is prepared with rice cereal, peanut butter, chocolate, and butterscotch flavors. It is one of the delicious rice crispies treats, which is served in bars. You may also vary the ingredients according to your taste like adding white chocolate fudge instead of choco-butterscotch topping.
Ingredients:
1 cup light corn syrup
1 cup sugar
1 cup creamy peanut butter
1 tsp vanilla
6 cups crispy rice cereal
1 cup semi-sweet chocolate chips
1 cup butterscotch chips
Procedure;
1. In a saucepan, cook together corn syrup and sugar until sugar dissolves completely.
2. Remove the pan from heat, add vanilla and peanut butter, and stir well to mix.
3. When the batter gets smooth, fold it with rice cereals and mix thoroughly.
4. Line the baking tray with parchment paper, spread the rice cereal mixture onto the parchment paper, and spread it evenly at the base.
5. Melt butterscotch and chocolate chips in a double boiler or in the microwave for just 1 minute until melts completely and make a smooth batter.
6. Spread this chocolate batter onto the rice cereals mixture and spread evenly using a spatula. Refrigerate the baking tray for at least 30 mins. or until it would get firm and cut smoothly into bars.
photo source : 1