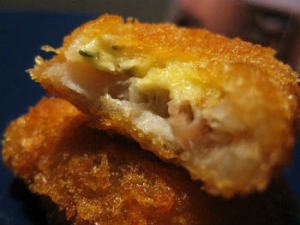 Preparation time: 15 mins. | Serves 1 dozen nuggets
This Fish Nuggets Recipe is a quick and easy food that is very popular among children. This recipe is slightly different from other nuggets recipe that gives the exact same taste as you find in ready-made frozen fish nuggets.
Ingredients:
½ lb fish fillets (cut into small pieces)
4 cloves garlic
1 tsp paprika
1 tsp black pepper
1 tsp mustard powder
½ tsp dried oregano
¼ tsp Chinese salt
½ tsp salt or to taste
2 tbsp corn flour or rice flour
Bread crumbs as required
1-2 Egg whites (lightly beaten with 2 tbsp of water)
Oil for deep frying
Procedure:
1. In a food processor, process together fish fillets, garlic, paprika, pepper, mustard, oregano, rice flour Chinese salt, and salt.
2. When the mixture becomes smooth, transfer it onto the flat plate and spread evenly.
3. Place the plate in the microwave for just 1-2 mins. or in a steamer for just 2-3 mins. so that the mixture would get a little harder or stiff.
4. Then cut the mixture into nuggets shape using a knife or using a cookie cutter to give your favorite shape.
5. Dip nuggets in egg whites then coat well with breadcrumbs and set aside. At this stage, you can freeze the cutlets in a Ziploc bag or in an airtight box.
6. Heat oil for deep frying in a wok, and fry the nuggets in batches for 3-5 mins. until become crispy golden brown. Keep stirring while frying to give even color.
7. Serve the hot fish nuggets with ketchup, tartar sauce, and fries.
photo source : 1