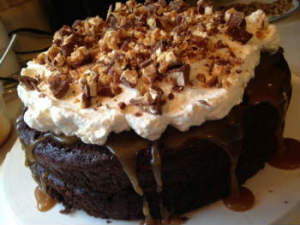 Preparation time: 50 mins. + Refrigeration time | Serves 6-8 persons
This Snickers Cake Recipe is prepared with snickers bars topping, hence why it is named so. Whereas, the entire cake is prepared with lots of other flavors including chocolate cake base, condensed milk and caramel mixture, peanuts, chocolate chips, and whipped cream. All these flavors combine to give a yummy creamy cake that could be the wonderful Christmas cake for this season.
Ingredients:
For Cake:
1 box devil's food cake mix (I use the homemade devil's food cake which I use in making Andes Mint Cookies)
3 eggs
1/3 cup oil
1 cup water
For Topping:
1 can sweeten condensed milk
12 oz hot caramel sauce
½ cup chocolate chips
2 cups heavy whipping cream
½ cup powdered sugar
1 tsp vanilla
3 snickers candy bars, chopped
1/3 cup peanuts (chopped)
Procedure:
1. In a mixing bowl, beat together eggs, oil, and water until become frothy.
2. Add the devil's food cake mix to the batter, mix using a spatula, and make a smooth batter.
3. Pour the batter into the greased 9×13-inch baking pan and bake in preheated oven at 350 degrees F for 20-30 mins. or until the toothpick inserted comes out clean.
4. Meanwhile, whisk together condensed milk and hot caramel sauce and set aside.
5. When the cake is done, take it out of the oven and immediately poke holes in it at a few distances.
6. Then pour the caramel mixture on it and let it stand as it is until cool to room temperature and the sauce absorbs well inside the cake.
7. Take a chilled bowl (a steel bowl is good), and beat heavy cream with sugar and vanilla at high speed until stiff peaks are formed. Add half of the snickers bar and chocolate chips to the cream and mix using a spatula.
8. Spread the whipped cream mixture onto the cake evenly on top and then sprinkle peanuts and remaining snickers on top. Refrigerate the snickers cake for at least half an hour till the topping sets nicely.