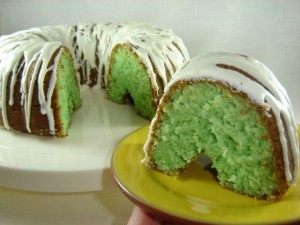 Preparation time : 50 mins. | Serves 6-8 persons
This Pistachio Pudding Cake is extremely delicious as it is very soft and full of pistachio flavor. You can do lots of variations with this lovely cake by applying different frosting, in this particular recipe simple vanilla frosting is used, whereas whipped cream or cream cheese frosting with chopped nuts topping can also be applied.
Ingredients:
18 ¼ oz white cake mix
4 eggs
1 cup soda water
½ cup crushed pistachio
3.4 oz instant pistachio pudding
¼ cup vegetable oil
Vanilla frosting for topping
Procedure:
1. In a large mixing bowl combine together all ingredients except frosting and make smooth batter.
2. Pour the batter into the greased bundt baking pan and bake in preheated oven for 45 mins. at 325 degrees F.
3. When the cake is done, cool it to room temperature and then pour the vanilla frosting on top. You may also do frosting of your favorite sauce or cream.
photo source : 1