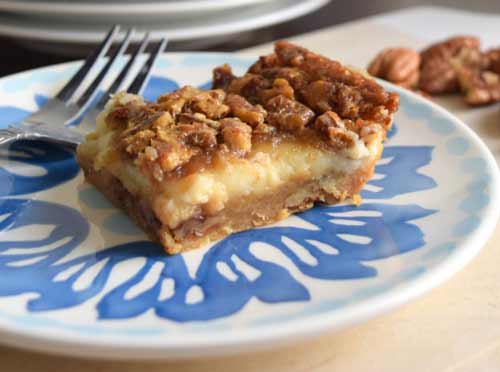 Preparation time: 70 mins. (approx.) | Serves 16 squares
These Pecan Cheesecake Squares are prepared with three different layers of shortbread, cheesecake filling, and pecan pie topping. All these layers are baked one by one and thus give delicious firm squares in the end. You may serve these squares with cream or ice cream.
Ingredients:
For Shortbread:
5 oz all-purpose flour
5 oz firmly packed light brown sugar
4 oz butter (softened)
2 oz pecans (finely chopped)
For Cheesecake:
16 oz cream cheese (softened)
3 oz sugar
4 oz milk
2 tsp vanilla extract
For Pecan Pie Topping:
5 oz firmly packed brown sugar
6 oz light corn syrup
3 oz butter (melted and cooled to room temperature)
3 large eggs (lightly beaten)
¼ tsp salt
½ tsp vanilla extract
6 oz pecans (coarsely chopped)
Procedure:
1. To prepare shortbread, combine flour, brown sugar, and butter in the food processor bowl and give a few pulses to make soft crumbs.
2. Transfer the crumbs mixture to a mixing bowl and then mix with pecans.
3. Take a greased rectangular baking pan, spread the prepared crumbs mixture at the bottom of the pan, and press it to make an even layer.
4. Bake in preheated oven at 350 degrees F for about 10 mins. then remove from oven and cool it to room temperature. The shortbread layer is now ready.
5. To prepare the cheesecake layer, beat cream cheese until becomes fluffy then beat with sugar, milk, and vanilla.
6. Pour this batter onto the shortbread layer and bake again for 15 mins. then remove from oven and cool to room temperature.
7. Now to prepare pecan pie topping, combine brown sugar, corn syrup, and melted butter and mix well.
8. Add beaten eggs, salt, and vanilla extract and whisk again to mix.
9. In the end add chopped pecans and mix.
10. Now spread this mixture onto the cream cheese layer and bake for 30-40 mins. more until becomes brown and bakes well from the center.
11. When the pecan cheesecake is cooled to room temperature after baking then cut it into squares using a sharp knife.
photo source : 1