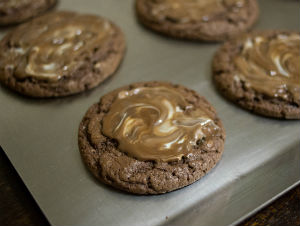 Preparation time : 20 mins. | Serves 24 cookies
This Andes Mint Chocolate Cookies is prepared with Andes Chocolate Mints topping and devil's food cake mix batter. This recipe also contains the homemade technique of making Devil's Food Cake Mix; mentioned in the first two steps. You can add extra Andes Chocolate flavor to these cookies by adding Andes chocolate inside the batter but before that you need to reduce the cocoa quantity.
Ingredients:
2 cup granulated sugar
2 cup all-purpose flour
¾ cup unsweetened cocoa powder
1 tbsp instant coffee
½ cup nonfat dry milk
1 tbsp baking soda
2 tsp baking powder
1 tsp salt
8 oz unsalted butter (cubed)
1 tbsp vanilla extract
½ cup vegetable oil
½ tsp chocolate extract
2 eggs
24 Andes chocolate mints
Procedure:
1. In a food processor bowl, process together sugar, flour, cocoa, coffee, dry milk, salt, baking soda and baking powder.
2. When the mixture becomes fine, add butter and vanilla and give few pulses to make crumbs like mixture. This is your Homemade Devil's Fook Cake Mix.
3. Transfer the mixture into the mixing bowl, add oil, chocolate extract and eggs and mix well until become thick smooth batter. If necessary, add few tbsp of water but make sure that the batter would remain dense like sticky dough.
4. Take a greased cookie sheet; drop a tbsp full of batter onto the tray keeping 2-inch distance between each drop.
5. Place the sheet into the preheated oven at 350 degrees F for 6-8 mins. until get flat round shape with cracks and become slightly crisp.
6. Take out the tray from the oven, and immediately place unwrapped Andes chocolate mints on top of each cookie and leave the tray as it is for 5 mins.
7. The chocolate will melt onto the cookies top and make it smooth using flat knife to give texture like frosting.
photo source : 1