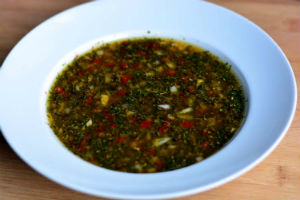 Preparation time : 10 mins. | Yield 1 cup
This Authentic Chimichurri Sauce is the famous sauce from Argentina, where it is commonly used in various recipes. It is used to serve as salsa with steaks; as marination of chicken and as dipping sauce if it is pureed.
Ingredients:
1½ cup fresh parsley (firmly packed)
1 cup fresh cilantro
4 cloves garlic
½ small onion (chopped)
1/2 small onion
1/3 cup olive oil
2 tbsp limejuice
1 tsp salt or to taste
½ tsp black pepper
½ tsp red pepper flakes or to taste
Procedure:
1. In a food processor bowl, add parsley, cilantro, garlic and onion and give few pulses just to mince them evenly. Make sure the mixture would not be fine or smooth.
2. In a separate bowl, whisk together olive oil, lime juice, and whisk properly.
3. Add the prepared green mixture to the oil mixture, add seasonings of salt, pepper and red pepper flakes, and stir well to mix.
4. Keep this sauce in an airtight box and place in fridge; you can use it for 10-14 days.
photo source : 1