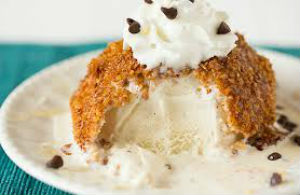 Preparation time : 15 mins. | Serves 6-8 persons
This Mexican Fried Ice Cream Recipe is one of an interesting form on ice cream, which everybody loves. Unlike other fried ice cream recipe, this recipe is a nice combination of cornflakes, vanilla ice cream and some delicious topping like chocolate sauce and honey. You can try this recipe with some more variations like adding some extra layers of different ice cream flavors.
Ingredients:
3 cup crushed cornflakes
½ cup unsalted butter (melted)
¾ cup sugar
2 quart premium vanilla ice cream (softened)
2½ tsp cinnamon
4 oz honey
Procedure:
1. Heat melted butter in a saucepan over medium heat, add cornflakes and stir continuously to toast the flakes evenly.
2. When flakes are nice golden and fragrant, remove the pan from heat and mix with sugar.
3. Spread this flakes mixture onto the tray to cool it to room temperature.
4. Combine cinnamon and vanilla ice cream and set aside.
5. Take a rectangular cake pan or deep pizza pan, press half of the prepared flakes mixture at the base of the pan, spread the cinnamon-ice cream mixture evenly over the flakes and then cover with the remaining flakes mixture.
6. Drizzle the honey evenly over the top cornflake layer, cover and then place it in the freezer for 6 hrs. or until ice cream gets firm.
7. After that, cut the ice cream into pieces and serve with dollop of whipped cream, chocolate chips and some fresh cherry.