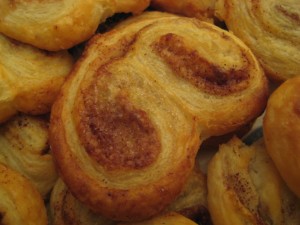 Preparation time : 40 mins. | Serves 20 palmiers
This Palmiers Recipe is one of a famous European bakery item which is prepared with cinnamon flavor in a very unique shape. The recipe is quite simple if you use ready made puff pastry, all you need is just to roll out the dough as mentioned in the recipe below and then bake. You may also add some extra flavor to the cinnamon filling just like filling used in making of chocolate babka.
Ingredients:
150 gm puff pastry
1 cup sugar
1 tsp cinnamon powder (heaped)
Procedure:
1. Mix sugar and cinnamon in a mixing bowl.
2. Onto the counter sprinkle 1 tbsp of sugar cinnamon mixture and start rolling the puff pastry into rectangular shape of 1 cm thickness. sprinkle remaining cinnamon mixture onto the top of rolled dough and press it evenly so that it sticks well with the dough. Now start rolling the dough from top and bottom both sides until they meet at the center, then cut the dough into ¼ inch pieces of palmiers and place them onto the dish. Refrigerate for 15 mins.
3. Meanwhile preheat oven to 350 degrees F, take a suitable baking tray place parchment sheet, and transfer the palmier pieces onto the baking tray keeping 2-3 cm space between each piece. Bake them for 15 mins. till become light brown in color.
photo source : 1