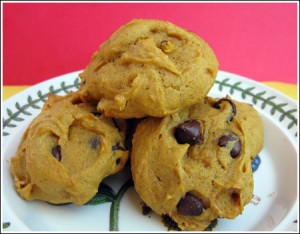 Preparation time : 20 min. | Serves more than 2 dozen
These pumpkin chocolate chip cookies are one of special Halloween cookies which can be served in variety of styles. You may decorate with cream by making different shapes of pumpkin at the surface of cookies.
Ingredients:
1 cup pumpkin
1 egg
½ cup oil
1 cup sugar
2 tsp baking powder
2 cup all-purpose flour
1 tsp cinnamon
½ tsp salt
1 tsp baking soda
1 tsp milk
1 tsp vanilla
1 cup chocolate chips
Procedure:
1. Preheat oven to 375 degrees F.
2. Sift together dry ingredients including flour, baking powder, baking soda, salt and cinnamon.
3. In food processor blend together pumpkin, egg, oil and sugar.
4. Combine both the mixture in a mixing bowl and then add milk, vanilla and chocolate chips to the batter.
5. When all the ingredients incorporate well with each other using tablespoon drop the batter on lightly greased and floured cookie sheet, make sure that distance between each cookie should be at least 1 inch.
6. Place the cookie sheet in preheated oven for just 10 min.
7. After that take them out from oven and then cool to room temperature before transferring them to serving platter.
photo source : 1