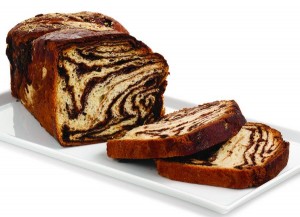 Preparation time : 90 mins. + Dough Resting Time | Serves 1 Large Loaf
This Chocolate Babka is an East European bread prepared which looks like marble cake. This chocolate bread is prepared with chocolate cinnamon filling. Babka is basically a bread or yeast cake and this chocolate babka is one of its derivative.
Ingredients:
For Bread or Babka:
2 tbsp instant yeast
¾ cup lukewarm milk
6 tbsp unsalted butter (softened)
6 tbsp sugar
2 tbsp vegetable oil
1 tsp vanilla extract
4 egg yolks
3⅓ cup all-purpose flour
1 tsp salt
For Filling:
1½ cup frozen semisweet dark chocolate
1 tsp ground cinnamon
¼ cup frozen unsalted butter
Procedure:
1. Dissolve yeast in milk and set aside for 5 mins. the milk will become frothy. It indicates that your yeast is active and perfect.
2. To prepare bread first, cream together butter and sugar at high speed for about 2-3 mins. to make light creamy mixture.
3. In a separate bowl, whisk together egg yolks, vanilla and oil till mix well.
4. Now pour the yolk mixture into the butter sugar mixture and beat again for 2-3 mins. until become fluffy batter.
5. After that combine the milk, egg batter, flour and salt in a large mixing bowl and mix them using hands or using stand mixer to make them unite and form a shape of dough.
6. When the mixture just got the shape of dough (at that time it will be sticky) drop it onto the counter and knead it by hands with little amount of flour to make it smooth and soft golden color dough. When it is ready place it into the deep bowl, cover with plastic and place it at a warm place for 2-3 hrs. till the dough rises to double.
7. Meanwhile prepare filling for the cake, for that you need to process chocolate chunks in the food processor to make it into fine powder form, then pulse it with cinnamon, then add cubes of butter to the mixture and pulse to form crumbs of chocolate.
8. After the dough is ready punch it down to the counter (already dust with flour) and start rolling to make ¼" thick round shape.
9. Spread the prepared chocolate cinnamon crumbs onto the surface of rolled dough and then roll it like a jelly roll or swiss roll. Roll up the dough further by moving it to and fro to elongate it as much as possible. Then roll the log into circular pattern like snail shape like swiss sponge roll and then stand it, press it down to give it a compact loaf shape.
10. Take a greased loaf pan, transfer the dough as it is to the the loaf pan, cover it with plastic and leave for 1-2 hrs. till the dough rises.
11. After that it will be ready to bake, but before that remove the plastic cover, poke the dough to remove air and then bake in preheated oven at 350 degrees F for about 60 mins. until become dark brown from top. Rotate the pan in between baking after 30 mins.
12. When the chocolate babka is ready, cool it to room temperature and then serve by cutting into pieces.
photo source : 1