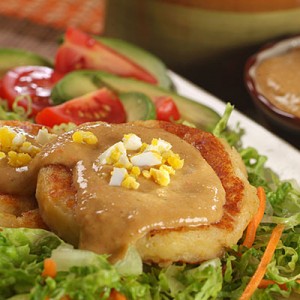 Preparation time : 40 mins. | Serves 8-10 patties
This Llapingachos is a typical Ecuadorian dish in which simple potato cakes are served with peanut sauce topping. Though the recipe is quite simple but if uses typical traditional ingredients like annatto oil and Munster cheese then the result would be perfect.
Ingredients:
For Potato Patties:
1½ lb Yukon Gold potatoes (peeled)
½ cup scallions (finely chopped)
Salt and pepper to taste
2 cup Münster cheese or Monterey Jack cheese
Oil for shallow frying (annatto oil is preferred)
For Peanut Sauce:
½ cup crunchy peanut butter
1 garlic clove (finely chopped)
½ cup scallions (finely chopped)
2 tbsp annatto oil or olive oil
1 tsp turmeric powder (in case of olive oil)
½ tsp ground cumin
1 medium tomato (chopped)
¾ cup milk
Salt and pepper to taste
Procedure:
1. Boil potatoes in a medium pot with water and salt. Cook for 20 mins. or until potatoes get tender.
2. Meanwhile prepare peanut sauce, for that you need to saute garlic and scallions in oil for 2-3 mins to make them soft.
3. Then add tomatoes, turmeric powder, salt, pepper and cumin and simmer till tomatoes become soft.
4. Add milk and simmer for 3-5 mins. then remove the pan from heat and stir in peanut butter until combined well.
5. After that when potatoes are done completely, then drain and mash them using your potato masher.
6. Saute scallions with salt and pepper till become soft.
7. Remove the pan from heat and then mix it with mashed potatoes and cheese.
8. Start making patties of your palm size and 1" thickness.
9. Heat oil for shallow frying and fry the patties in batches till become brown and crisp from both sides.
10. Take out the patties onto the serving platter and drizzle the prepared warm peanut sauce onto the top of each potato cake.
photo source : 1