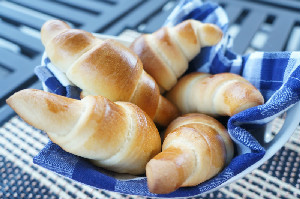 Preparation time : 60 mins. + 1 hr. Dough resting time | Serves 32 rolls
These are the homemade Breakfast Crescent Rolls filled with butter flavor. You can make variety of stuffed crescent rolls using this recipe; for instance, you can use chocolate, chicken spread, cream cheese spread for stuffing the roll.
Ingredients:
12 oz all-purpose flour (bread flour is preferred)
2 tsp instant yeast
2 oz lukewarm water
6 oz warm milk
1½ tbsp sugar
2 eggs
1 tsp salt
4 oz butter (softened and divided)
1½ tbsp melted butter
1 egg white for brushing
Procedure:
1. Dissolve yeast in lukewarm water with sugar and leave it for 5 mins. until it gets frothy.
2. Take a large mixing bowl, combine flour, salt and yeast mixture and mix well.
3. Add in milk and egg and mix well using hands. Then add 2 oz softened butter and knead the mixture until it forms smooth and soft dough.
4. When the dough is ready, keep it in deep bow, cover with plastic sheet and keep at warm place for an hour or until it rises to double in size.
5. After that punch the dough down and divide it into two equal portions, make balls of these two portions.
6. Take one of a ball and roll it to make 16-inch circle, spread half of the remaining softened butter over the whole circle and reserve remaining softened butter for second ball. Cut it into 16 equal triangles using pastry wheel cutter just like you do for pizza.
7. Now take a piece of triangle, make a slit at the wider side and then start rolling from the same side till it reaches to end point. Slightly turn the two corners inside just like shape of letter C.
8. Similarly roll remaining triangles and place them onto the greased baking tray, keeping 1-inch distance between each roll. Brush the rolls with melted butter and egg white, cover the tray with damp cloth and leave it as it is for 15 mins.
9. Place the tray in preheated oven at 400 degrees F for just 12-15 mins. or until become golden brown from top.
10. When the rolls are done, cool them to room temperature and serve with tea.
photo source : 1