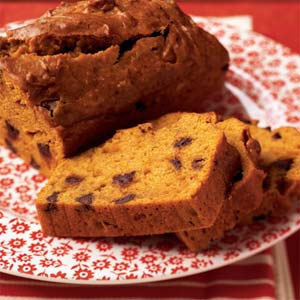 Preparation time : 70 min. | Serves 6-8 persons
This pumpkin bread recipe is prepared with salad oil hence become healthy for those who can't take baked foods as butter is used in most of the bread recipes. The rest of the ingredients and method is almost same as other pumpkin breads.
Ingredients:
3 cup caster sugar
1 cup salad oil
4 eggs
2 cup pumpkin
3 1/2 cup flour
2 tsp baking soda
1 tsp nutmeg powder
1 tsp cinnamon powder
2 tsp pumpkin spices
2 tsp vanilla
1 cup pecan (chopped)
Procedure:
1. Beat oil and sugar in a large mixing bowl until become creamy.
2. Now add eggs one by one and beat them well after each addition.
3. Sift together dry ingredients including flour, soda, baking powder and pumpkin spices.
4. Fold the dry mixture with the egg batter until become smooth paste.
5. Add vanilla and chopped pecans and mix using spatula.
6. Pour the batter in greased loaf pan of suitable size and place in oven for 60 min. at 350 degrees F.
photo source : 1