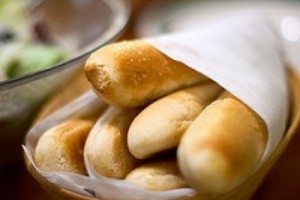 Preparation time : 30 min. + 80 min Resting time | Serves 12 breadsticks
This is a slightly modified recipe of the original Olive Garden Breadsticks. This recipe has been tweaked to taste closely like the original breadsticks. It takes very little time to prepare and turns out to look very much like the original restaurant recipe.
Ingredients:
1 1/3 cups of water
4 tsp soft butter
4 cups of flour
2 Tbsp sugar
2 tsp salt
2 tsp instant yeast
Cooking oil for spray
Garlic powder for topping
Procedure:
1. In the mixing bowl of dough mixer our butter, flour, sugar, salt, yeast and water and make smooth soft dough.
2. When dough is ready make elongated shape of bread sticks having 2" thickness and 5-6 inch long.
3. Place these sticks on a greased baking sheet by keeping 2-4 cm distance in between sticks cover the pan and let them rise to double in size for 60-80 min (keep at warm place for quick result).
4. Meanwhile preheat oven to 375 degrees F.
5. Sprinkle garlic powder and spray cooking oil on to the top of each stick and bake for 25 min until become golden brown from top. Serve breadsticks with marinara sauce after cool them to room temperature.
photo source : 1