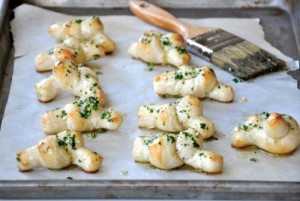 Preparation time : 2.5 hrs. | Serves upto 12 knots
This Garlic Knots Recipe is one of a kind of garlic bread which is prepared in slightly different way. Instead of making bread dough is divided into strips which are then tied into knots thus result in wonderful shape after baking. You can top these garlic knots with some cheese to make it more delicious.
Ingredients:
For Dough:
½ cup lukewarm water
1 pkg. instant dry yeast
1 tsp sugar
2 tbsp olive oil
2½ cup all-purpose flour
1 tsp salt
1 cup milk or as required
For Garlic Sauce:
4 tbsp olive oil
2 tbsp unsalted butter
2-3 cloves minced garlic
1-2 tbsp fresh Italian parsley
1 tsp salt
Procedure:
1. To prepare dough, combine water, yeast and sugar in a cup and set aside for 5-10 mins. until foams appear on the surface.
2. Combine flour and salt and then mix with the yeast mixture. Now slowly add milk to the flour mixture and knead the dough to a smooth soft texture. You may need more amount of flour to knead well use the extra flour by dusting small amount onto the dough.
3. Then grease the dough with olive oil, put it into the deep bowl, cover with plastic wrap and leave at warm place for about 1-2 hrs. until it gets double in size.
4. Meanwhile prepare the garlic sauce for brushing. heat butter and oil in a pan and saute garlic in it over low heat for 2-3 mins.
5. Remove the pan from heat and then mix with parsley and salt.
6. When the dough rises to double punch it down onto the counter. Roll it into the large rectangle, then cut it into ¼" strips and again cut each strip into half . Take a strip, slightly grease it with olive oil and tie it into a knot, place it onto the greased baking tray. Similarly prepare rest of the knots and place them about 2" apart.
7. Now brush the knots with the prepared garlic sauce and set aside for 15 mins.
8. Place the tray in the preheated oven for 15-20 mins. at 400 degrees F until they get light golden from top.
9. When the garlic knots are ready toss them again with the remaining garlic sauce and then serve immediately with pizza or pasta.
photo source : 1