Preparation time : 50mins | Serves 6 persons
This
recipe of alu paratha
is one of a famous stuffed flat bread filled with spicy mashed potatoes. It gives wonderful taste if it is served with tea, traditional yogurt sauce (
raita
) or spicy chutney.
Ingredients:


2 cup boil potato (mashed)
½ cup onion (chopped)
Coriander leaves as required
3-4 green chilies (chopped)
1 tspn red chili powder
½ tspn black pepper
1 tspn cumin powder
Salt to taste
3 cup wheat flour (fine)
Water as require
Oil for frying
Procedure:

1. Take a bowl, mix flour and pinch of salt and knead the dough using warm water first, then in the end knead it with cold water and coat with a tbspn of ghee or butter. The dough will be soft by suing this method.

2. Mix chopped onions, coriander leaves, green chilies, red chili powder, black pepper, cumin powder and salt in the potato.
3. Now take a piece of dough spread it to 3 inch using hands, put 2-3 tbspn of potato filling in the middle of the dough and cover the filling by joining the sides together. It's just like you make hollow cup shape dough put filling in it and wrap the mouth of the dough.
4. Now roll this filled dough using wooden roller.
5. On a skillet put the bread and pour 2-3 tbspn of oil and fry the bread from both sides.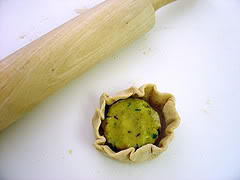 6. Similarly, make other bread like this.
Servings:

Serve the hot alu paratha with ketchup and tea.

photo source : 1