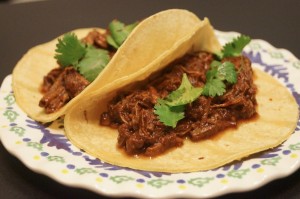 Preparation time : 6-7 hrs. | Serves 12 persons
This Barbacoa Recipe is a shredded beef type which is prepared in slow cooker. Its a very famous stuffing used in making Mexican Burrito. It is usually served with tortilla.
Ingredients:
2 tsp salt
4 lb chuck roast (visible fat trimmed and cut into medium chunks)
2 bay leaves
3 cup chicken broth
For Sauce:
2 tbsp extra virgin olive oil
1 small onion (chopped)
6 cloves garlic
2 tsp ground cumin
1 tbsp dried oregano
1 tsp ground black pepper
1 tsp allspice
4 canned chipotle peppers
1 tbsp adobo sauce (from the chipotle pepper can)
1 tsp soy sauce
¼ cup apple cider vinegar
Procedure:
1. Marinate beef chunks with salt and set aside.
2. Heat oil in a saucepan, fry onion until become light golden.
3. Add in garlic, cumin, oregano, black pepper, allspice, adobo and chipotle pepper and stir well.
4. Then add vinegar and soy sauce and simmer for 5 mins.
5. Now remove the pan from heat and blend the sauce to make it smooth.
6. Put the beef chunks into the slow cooker along with prepared sauce, bay leaves and chicken broth and cook for 6 hours on high settings. After 5 hours, take out the beef chunks and shred them using fork then put it again into the slow cooker and cook for further 1 hour.
7. Serve the barbacoa with tortilla or make Mexican style burrito with your favorite stuffing.
photo source : 1