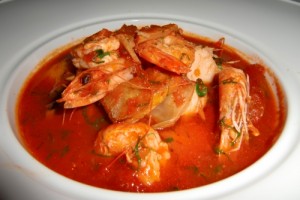 Preparation time : 30 mins. | Serves 6 persons
This Fish Stew Recipe is prepared with tomato flavor along with some vegetables. The recipe is full of nutritions and is great for seafood lovers. Serving it with boiled rice gives wonderful complement to this Fish Stew and enhances its flavor. You can also add codfish or any other fish fillets of your choice.
Ingredients:
Olive oil for frying
1 large red onion (finely diced)
1 bunch of garlic (peeled and minced)
1 tbsp ginger (minced)
2 tsp capers
2 carrots (finely diced)
1 celery stalk (finely diced)
1 fennel bulb (cut into rounds)
4 cup tomato puree or 2 lb tomatoes (chopped)
2 cup fish stock
1 tsp cayenne
1 tbsp black pepper
Salt to taste
8 tiger prawns (cleaned and deveined)
2 large salmon fillets (cut into large chunks)s
4 grey mullet fillets
2 tbsp lemon juice
Finely chopped parsley for garnishing
Sour cream for topping (optional)
Procedure:
1. In a heavy sauce pan, heat oil fry prawns with 1 tsp garlic for 1-2 min. until become pink. Then take them out from pan and set aside.
2. In the same oil, saute onion for 2-3 mins. to make it soft then stir with remaining garlic and ginger.
3. Add in carrot, celery, capers and fennel and cook for 1-2 mins.
4. Now add tomato paste and fish stock along with seasoning of paprika and black pepper and let the mixture boil.
5. After that add salmon and grey mullet and simmer for around 10 mins.
6. Then add prawns and gentle simmer for further 5 mins. until the salmon gets opaque.
7. Take out the fish stew into the serving bowl, top with some sour cream and fresh parsley.
photo source : 1