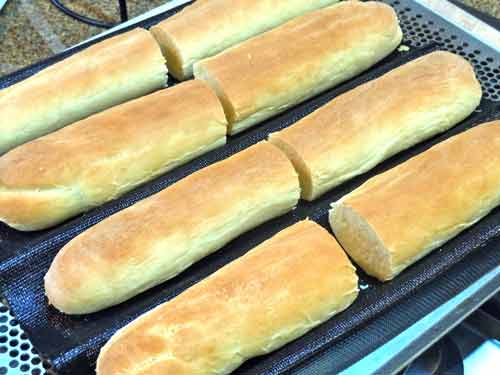 Preparation time: 30 mins. + 2hrs. Dough Resting time | Serves 3 12-inch loaves
This recipe will show you How To Make Subway Bread at home? Through this easy recipe, you can prepare various styles of Subway sandwiches at home.
Ingredients:
2 tbsp active dry yeast
1¾ cup lukewarm water
2 tbsp sugar
3 cup flour
2 eggs
3 tbsp butter (cold)
1 tbsp salt
Procedure:
1. Dissolve yeast and sugar in ¼-cup warm water and let it stand for 5 mins. until becomes foamy.
2. In a stand mixer bowl, combine yeast mixture, flour, eggs, and half-cup warm water. Start mixing at low speed, when the mixture becomes sticky increase the speed to medium.
3. After 2-3 mins, add cold butter cubes and salt and start mixing again at medium-high speed until soft smooth dough would form.
4. The dough should be elastic and slightly sticky, you can add some flour or water as your requirement to make the perfect dough. Transfer the dough to a greased bowl and rub it with the sides of the bowl to coat the oil. Cover the bowl with plastic wrap and leave it in a warm place for about an hour.
5. When the dough becomes double in size, punch it down and divide it into three equal parts.
6. Roll out each portion into a 10-12 inch long loaf and around 2-inch wide.
7. Place the loaves on a greased and dusted baking sheet or bread form pan keeping a 2-3 inch distance between them and leave again to rise for 45 mins.
8. After that, place the tray in preheated oven at 350 degrees F for 15-20 mins. or until becomes nice golden brown in color from the top.
9. When the bread is ready, immediately take them out of the oven and rub the cold butter stick on top of each loaf. This makes the bread soft from the outside and looks shiny.
10. This is all about how to make subway bread at home; you can use it for making subway-style sandwiches.
photo source : 1