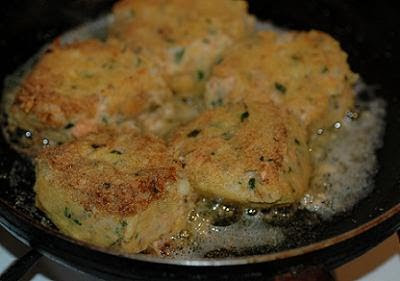 Preparation time : 20 mins. | Serves 8 pieces
This fish cake recipe is usually called fish kebabs in Pakistani Cuisine. The spices use in this recipe are more or less same as in typical shami kebabs but the taste is different because of fish.
Ingredients:
1/2 cup large yellow lentils (boiled and mashed)
500 gm any white fish (boneless and boiled)
2 tbsp sunflower oil
1 medium onion (finely chopped)
4 cloves garlic (minced)
1 tbsp ginger (minced)
3 green chili (chopped)
2 tsp ground coriander
1 tsp garam masala or hot mix spice powder
1/2 tbsp chili powder
1/2 cup coriander leaves (finely chopped)
Salt or to taste
2 tbsp plain corn flour
1 egg (beaten)
1 cup breadcrumbs
Oil for shallow frying

Procedure:
1. Boil fish in water for 15 mins with ginger garlic and salt. After that drain all the water from fish.
2. Now in food processor mix all the spices with boiled fish and lentils including coriander leaves, green chilies, red pepper, ground coriander, hot mix spice powder, chopped onion and plain flour.
3. To make cakes at first grease your hands with oil so that you may easily make cakes otherwise the mixture would stick to your hands. Take a sufficient quantity of mixture and spread it on your palm to make thick flat shape cake.
4. Coat the cake at first in egg and then in bread crumbs. Prepare other cakes in the same manner.
5. Heat oil in skillet for shallow frying, put two or three cakes at a time in skillet and after 3-4 mins. turn the sides of fish cakes and cook again for 3-4 mins until become brown from each side.
Serving:
Serve the delicious fish cakes as side dish dinner item with ketchup or any dip sauce.