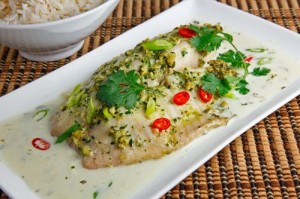 Preparation time : 35 mins. | Serves 2 persons
This baked fish recipe is prepared in Italian style, thus has very light in flavor. While the topping of tartar sauce make some addition to the flavor otherwise its very simple and salty in taste.
Ingredients:
4 fish fillets (wash and dried properly)
1 tbsp lemon juice
Salt and Pepper to taste
1 tsp garlic powder
1 cup bread crumbs
3 tbsp parmesan cheese
2 tbsp chopped Parsley
1/2 tsp paprika powder
1/2 tsp thyme
1 tbsp lemon zest
1 egg
1 cup double cream
Flour as required
Oil as required
Procedure:
1. Marinate fillets with salt, black pepper, garlic powder and lemon juice and set aside for 15 mins.
2. Now prepare crumbs mixture by using salt, pepper, parsley, parmesan, paprika, thyme, lemon zest and mix them well.
3. In another bowl whisk together egg and double cream.
4. Now at first dust the marinated fillets with flour then dip in egg and cream mixture and then coat with bread crumb mixture. Place the coated fillets on a greased baking dish and bake in preheated ovem for 12-15 mins. at 400 degrees F.
5. When the fillets turn into slightly golden in color, take them out from oven and serve with the topping of tarter sauce.
photo source : 1