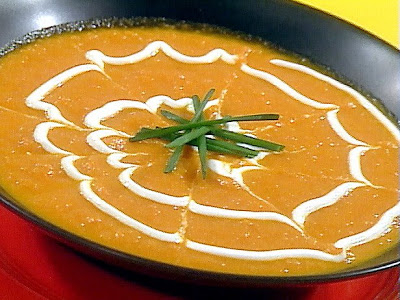 Preparation time : 30 mins | Serves 2 persons
This carrot soup is prepared in traditional Indian style in which some extra seasoning consisting of  carom, cumin and mustard seeds enhances the flavor of this delicious carrot soup. The  spices which are added in the end like red chili and black pepper are just used for additional flavor. You can adjust the spices according to your taste. This soup looks great when it is served with some cream on top as decoration. 
Ingredients:

1 cup carrots (cutinto small cubes)
1 medium size onions (julienne)
1 tspn carom seeds
1 tspn mustard seeds
1 tspn cumin seeds
Salt to taste
1 tspn crushed red pepper
Crushed black pepper as required
2 tspn lemon juice
Coconut milk as required
Fresh cream as required
1 cup water




1. In a sauce pan, heat oil and add carom seeds, cumin seeds and mustard seeds and fry for just a minute.
2. Now add onions and fry for 2-3 minutes so that color of onion changes into pink and then add carrots, salt and water, cover the pan and let it cook for on medium heat for 8-10 minutes until carrots become soft.
3. After carrots have been cooked put the whole mixture into the blender and blend to form smooth paste.
4. Pour the carrot soup into the pan and season it with rushed red chili and black pepper and lemon juice. Let it cook on low flame until the soup starts to boil.
5. Serve the delicious carrot soup in a soup bowl and sprinkle some coconut milk and cream over it.