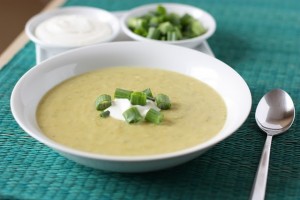 Preparation time : 60 min. | Serves 4 persons
This recipe for cream of asparagus soup is another addition to our healthy and nutritional rich recipes. this soup is best for every age people as it contains blended nutrition found in celery along with protein. If you make this soup lighter then remove cream from the recipe.
Ingredients:
1 lb asparagus (sliced into small pieces)
1 medium onion (diced finely)
1/4 tsp salt
1/4 tsp black pepper
1/4 tsp oregano
1/4 tsp thyme
14 oz of chicken broth
6 oz water
1 chicken bouillon cube
4 oz milk
2 oz cream
2 tbsp butter
2 pieces of celery diced (for garnishing)
Fresh parsley (finely chopped for garnishing)
Procedure:
1. Saute onion and celery together in butter for 8-10 min until become light golden.
2. Transfer the cooked onion and celery in the soup pot and add remaining ingredients except milk and cream. Cook it over high heat till it boils then reduce the flame to medium and further cook for 40 min.
3. After that blend the cooked mixture and then cook with milk for just 5 min.
4. In the end turn off the flame and mix the soup with cream.
5. Serve the delicious cream of asparagus soup with topping of chopped parsley and diced celery.
photo source : 1