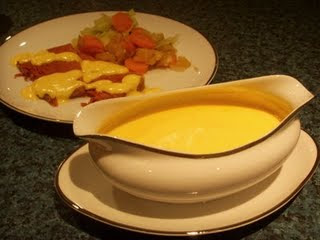 Preparation time : 10 mins
This dip sauce best complements with any fried stuff specially vegetables like fried zucchini. This dip sauce is very easy and can be prepared in a very short time. For more sauce recipe, refer to James Peterson top selling cookbook : Sauces.
Ingredients:
4 egg yolks
1 tbspn water
1/2 cup butter (softened)
1/4 tspn salt
Pinch of black pepper
1 tbspn lemon juice
Procedure:
1. To make dip sauce, In a mixing bowl beat egg yolks using whisk until become light-colored.
2. Now add water to the yolks and place the bowl to steam or double boiler and stir continuously until the mixture becomes warm and starts to thick.
3. After that add butter and stir to mix so that mixture would not get so hot and remain warm and gets thick enough like chocolate. You may check the consistency by dropping sauce from spoon if it coats the whole spoon and would not drop easily then the sauce is ready.
4. Remove the sauce from double boiler and add seasoning of salt, pepper and lemon juice to give flavor.