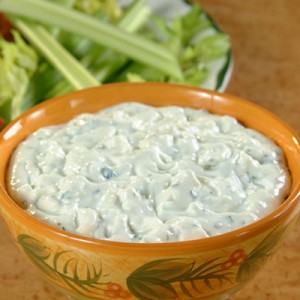 Preparation time : 5 mins. | Serves 2 cups
This Blue Cheese Dressing Recipe is prepared with mayo and sour cream flavor along with crumbled blue cheese. The dip greatly complements fried stuffs  for instance; its combination with fried chicken ,  KFC Chicken and Chicken Wings is delicious.
Ingredients:
½ cup mayonnaise
½ cup sour cream
½ cup crumbled blue cheese
1 tsp garlic (finely chopped)
¼ cup parsley (finely chopped)
2 tbsp onion (finely chopped)
1 tbsp fresh lemon juice
Procedure:
1. Combine all the above ingredients in a mixing bowl and whisk well, then refrigerate the dressing.
2. Serve the chilled blue cheese dressing with any fried stuff like fried chicken.
photo source : 1