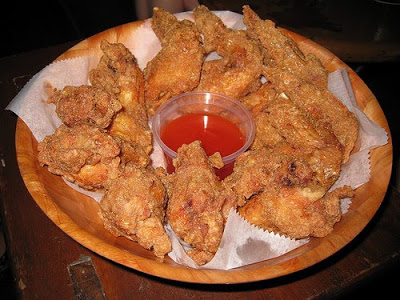 Preparation time : 30-40mins | Serves 6 persons
Chicken Wings are marinated in variety of ways, some are spicy some are not and technique of frying and cooking also varies with respect to marination. For example honey chicken wings are fried first then coated in honey batter while most of the time wings are marinated first then fried. In this recipe, very little spices are used to marinate the wings and it becomes very crispy after frying which the kids like very much.

Ingredients:
6 chicken wings pieces
3 tbspn of lemon juice or vinegar 2 tbspn
1 tspn crushed black pepper
½ cup rice flour
½ cup plain flour
½ cup corn flour
Salt to taste
2 eggs
½ tspn baking powder
Oil for deep frying
Procedure:
1. Marinate chicken pieces with lemon juice, salt and pepper.
2. Using double boiler, slightly cook chicken wings on steam for 10mins (because by just doing fry chicken wings don't become completely tender).
3. In a bowl mix plain flour, rice flour, corn flour, pinch of salt and baking powder.
4. Beat eggs and coat half of egg on the steamed chicken wings.
5. Now coat wings with the flour mixture and leave for 5-10mins (because egg absorbs some flour in it and we have to coat it again).
6. After that again pour the remaining egg on the wings and coat with flour mixture.
7. On a medium heat, deep fry the wings until become golden brown in color, it takes 10mins approx. Make sure the oil temperature before frying should not be too high or too low.
Servings:
The most famous fast food item is ready to eat just take out the wing from the oil and serve the hot Chicken wings with ketchup and fries or with cole slaw.