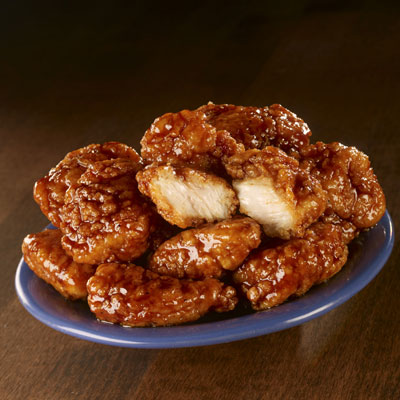 Preparation time : 30 min |Serves 4-6 persons
This honey bbq wings recipe was inspired by the original copycat KFC honey bbq wings. Now you can make this delicious fast food recipe at home, the main step is to prepare the sauce which can be used in the same way in other fried chicken recipes.
Ingredients:
2 cup bbq sauce
3/4 cup honey
1 cup all purpose flour
1 tsp salt
1/2 tsp black pepper
2 tsp chicken powder
20 chicken wings
Oil for deep frying
Procedure:
1. Mix dry ingredients in a mixing bowl including flour, salt, chicken powder and black pepper.
2. Dust each piece of chicken wings with the dry mixture.
3. Heat oil in deep fryer to appropriate temperature as mentioned on the fryer.
4. Meanwhile prepare honey sauce for the wings, for that heat honey and bbq sauce together in a sauce pan and cook for just 3-5 min until honey mixes well in the sauce.
5. Now fry chicken wings in the deep fryer for 5-8 min or until chicken would become done.
6. When chicken is done coat the wings with prepared honey bbq sauce and served with Cole slaw and fries.
photo source : 1