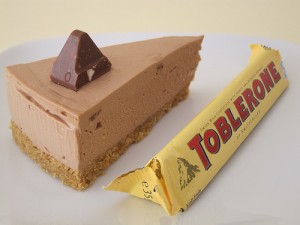 Preparation time : 20 mins. + Refrigeration time | Serves 8 persons
This Toblerone Cheesecake is prepared with corn flakes crust which also goes febulous with the yummy cheesecake flavor. You may prepare this cake in variety of ways; all depends how to add chocolate in the filling for instance, you may add chopped toblerone, melted toblerone as mentioned in this recipe or melted toblerone with marble texture.
Ingredients:
For Crust:
2 cup cornflakes crushed
4 oz butter
4 tbsp honey
For Filling:
8 oz cream cheese
8 oz whipped cream
2 tbsp gelatin
8 oz toblerone
½ tsp Vanilla essence
5 oz caster sugar (divided)
Procedure:
1. To make base for the cheesecake combine corn flakes, butter and honey and mix them well to form crumbs.
2. Take a greased springform pan and press the crumbs at the base of pan. Bake in preheated oven at 325 degrees F for just 10 mins. to set.
3. Now to prepare filling, beat together cream cheese and sugar till combine well.
4. Melt toblerone chocolate in microwave for just few seconds or putting the chocolate bowl over the boiling water.
5. Dissolve gelatin in 2-3 tbsp of warm water and add it to the filling mixture and stir well.
6. Pour the melted chocolate and gelatin into the cream cheese mixture and mix well.
7. Fold the whipped cream with the cream cheese mixture to mix it evenly.
Note:
You may also add melted chocolate after adding whipped cream but in that case the texture of the filling will be like marble which also looks awesome.
7. Pour the mixture onto the prepared crust and let it refrigerate to set for 3-4 hours.
8. Serve the delicious Toblerone cheesecake with topping of extra toblerone.
photo source : 1