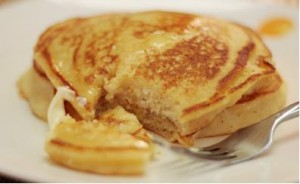 Preparation time : 15 min. | Serves 6-8 pancakes
These cornmeal pancakes are another addition to our pancake recipes having delicious crispy and soft flavor of corn. You can serve it with whipped cream or caramel sauce topping.
Ingredients:
½ cup cornmeal
½ cup flour
2 tsp baking powder
½ tsp salt
2 tbsp sugar
1 egg (beaten)
1 cup milk
2 tbsp margarine
Procedure:
1. Combine dry ingredients together including cornmeal, flour, baking powder, salt and sugar.
2. Add egg, milk and margarine and mix well until become smooth batter. If batter looks too thick add milk accordingly to prepare batter of normal consistency.
3. Heat grease griddle pan and pour one ladle batter over the griddle, cook over slow heat until bubbles starts to appear on to the surface and batter would become dry turn the side and let it cook until become golden brown form both sides.
4. Similarly prepare rest of the pancake.
photo source : 1