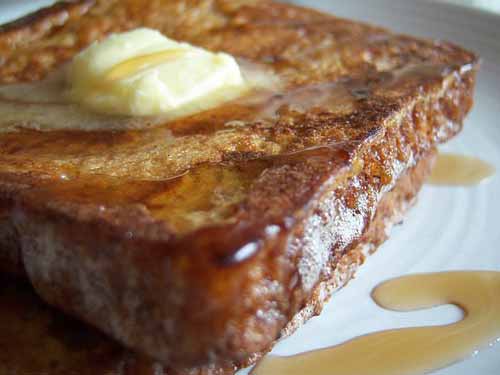 Preparation time: 10 mins. | Serves 8 slices
This Fluffy French Toast Recipe is one of our favorite breakfasts of most of us. This recipe of French toast is slightly different as it makes a crispy and soft toast with an awesome taste.
Ingredients:
¼ cup all-purpose flour
1 cup milk
Pinch of salt
3 eggs
1/2 tsp ground cinnamon
1 tsp vanilla extract
4 tbsp white sugar
8 thick slices of bread
Procedure:
1. In a mixing bowl, whisk together flour, milk, salt, egg, cinnamon, vanilla, and sugar until well blended.
2. Now transfer the batter into the wide and deep dish and soak all the bread in the batter until all the liquid absorbs well in the bread.
3. Heat butter or oil for shallow frying on a nonstick pan, carefully transfer the slices using a spatula to the frying pan and fry till become crispy golden brown from both sides.
4. Serve the hot Fluffy French Toast immediately.