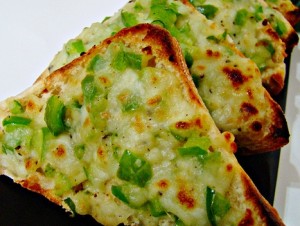 Preparation time : 20 mins. | Serves 10 slices
This Chili Toast recipe is prepared with mashed potatoes, veggies and cheese. The recipe is quite quick and easy since you just need to combine the mixture, paste it onto the slices and bake in oven. You may also use microwave for this purpose but in that case you will have to toast the bread slices before coating the mixture.
Ingredients:
8-10 bread slices (white bread/brown bread/french bread)
2 tbsp margarine or clarified butter
1½ cup grated cheddar or mozzarella cheese
1 small green bell pepper (finely chopped)
1 medium onion (finely chopped
3-4 green chilies (finely chopped)
1 cup mashed potatoes
Salt to taste
Crushed black pepper to taste
1 egg (lightly beaten)
Procedure:
1-In a mixing bowl, combine mashed potatoes, beaten egg and margarine and blend them well.
2. Then add veggies along with seasoning of salt and pepper and mix well. If you feel the mixture is too sticky or wet then add some flour to the mixture.
3. Spread the mixture onto the bread slices and cut each bread slice into triangular shape.
4. Sprinkle cheese and chopped coriander leaves on top and then place onto the greased baking sheet.
5. Put the baking sheet in preheated oven for just 3-5 mins. until cheese melts completely and bread slices gets little crispy from edges.
photo source : 1