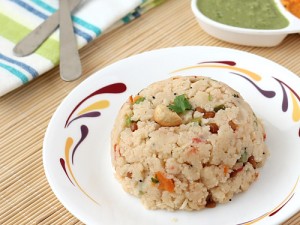 Preparation time : 30 mins. | Serves 2-4 persons
This Rava Upma recipe is taken from South Indian cuisine and prepared with lots of healthy ingredients. It is prepared in variety of ways in some other upma recipes bread is used instead of rava (semolina). You may also add or eliminate ingredients of your choice like veggies and nuts these ingredients can be altered according to your choice.
Ingredients:
¼ cup clarified butter or ghee
1 cup rava (semolina)
1 small onion (chopped)
1 tbsp crushed ginger
1 green chilli
5-6 curry leaves
2 tbsp peanuts
1 tsp urad dal white (split black lentils)
½ tsp sesame seeds
½ tsp fennel seeds
1 tsp coconut flakes
½ tsp mustard seeds
Salt to taste
½ tsp chilli powder
½ tsp turmeric
1 tbsp chopped fresh coriander
2 tbsp lemon juice.
½ cup frozen mix vegetables(peas, capsicum)
Few cashew nuts
Procedure:
1. Roast semolina in a pan for 2-3 mins. till pleasant roasting smell starts to come and semolina gets light brown.
2. In another pan, saute oil in clarified butter till become pink in color.
3. Then add ginger and cook for 1-2 mins. Add in peanuts, cashew and dry urad dal and fry for 3-5 mins.
4. Now add curry leaves, green chilies, sesame seeds, coconut flakes and fennel to splutter in the mixture.
5. After that add seasoning of salt, chili powder and turmeric along with roasted semolina and mix well.
6. Slowly add 2 cups of water and frozen vegetables and stir well so that no lumps would form. Cover the pan and simmer for 5 mins. till water absorbs completely in the mixture and all ingredients cook well.
7. Add lemon juice in the end, garnish with fresh coriander leaves and serve hot.
photo source : 1