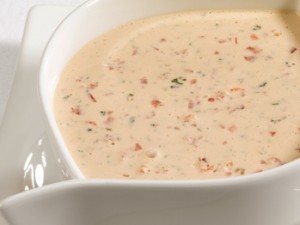 Preparation time : 10 mins. + 4 hrs. Refrigeration time
This thousand island dressing recipe is one of the easy sauce recipe which you usually buy from store. You may use any kind of relish in preparing this dressing while in this recipe, sweet pickle relish is used. This sauce is mainly used as dressing for Russian salads.
Ingredients:
1/2 cup mayonnaise
2 tbsp ketchup
1 tbsp white vinegar
2-3 drops of Tabasco sauce
2 tsp sugar
2 tsp sweet pickle relish
1 tsp onion (minced)
Pinch of salt
Pinch of black pepper
Procedure:
1. In a mixing bowl, combine mayonnaise, ketchup, Tabasco and vinegar to make smooth paste.
2. Then add rest of the ingredients including salt, pepper, sweet pickle relish, onion and sugar. Mix them together and keep in air tight container.
3. Place the container in fridge for 3-4 hrs so that all the flavors mix well in the sauce and then serve with any salad.
photo source : 1