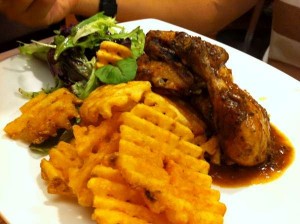 Preparation time : 40 mins. | Serves 4-6 persons
This chicken with brown sauce is prepared with easy roast chicken. Since the brown sauce has some awesome flavor so it can be served with plain steam chicken as well but addition of fries, cole slaw and fresh veggies increase its temptation.
Ingredients:
1 whole chicken (cut into 8 pieces)
1 tbsp ginger garlic paste
3 tbsp onion (chopped)
Salt to taste
1 tsp chili powder
½ tsp black pepper
3 tbsp tomato ketchup
½ tsp mustard powder
For Brown Sauce:
2 tbsp flour
1 cup stock
1 tbsp butter
1 tbsp tomato ketchup
1 tbsp vinegar
1 tbsp Worcestershire sauce
1 tbsp Hp sauce
1 tsp salt and pepper
Procedure:
1. In a saucepan, fry onion in oil till become light golden then add chicken and cook for 3-4 mins. over high heat.
2. Add ginger garlic paste, salt and pepper and cook for 5 mins. more till chicken gets slightly brown.
3. Now add 1 cup water and simmer for 15-20 mins. until chicken tenders completely.
4. After that add chili powder and ketchup and cook over high heat till gets dry.
5. To prepare brown sauce, heat butter in a saucepan, add in flour and stir well to cook for a minute, then add stock and stir constantly using whisk so that no lumps would be there.
6. Then add salt, pepper, ketchup, worcestershire sauce, vinegar and hp sauce. Mix well and cook over medium heat till gets thick.
7. Now take out the prepared chicken onto the serving platter, pour brown sauce onto the chicken and serve with fresh veggies and fries.
photo source : 1