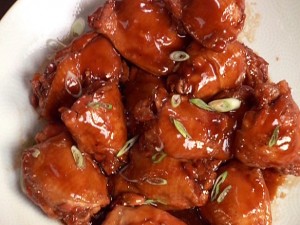 Preparation time : 8 hrs in Crockpot | Serves 4 persons
This garlic chicken recipe is prepared in Crockpot hence its cooking time is mush longer than other chicken recipes but the taste becomes delicious. You may also cook it for overnight to save your time. This garlic chicken recipe is sweet in taste due to brown sugar which when combines with vinegar gives yummy sweet and sour taste.
Ingredients:
1 kg chicken pieces
1 cup packed brown sugar
2/3 cup vinegar
1/4 cup soda water
3 tbsp minced garlic
2 tbsp soy sauce
1 tsp cayenne pepper
Salt to taste
Chopped spring onion for garnishing
Procedure:
1. In a crockpot mix all the ingredients mentioned above and cook on low heat for 8 hrs.
2. After that dissolve 1 tbsp of cornstarch in ¼ cup water and add it to the chicken when the sauce would become thicker take out on serving platter and serve with boiled rice.
photo source : 1