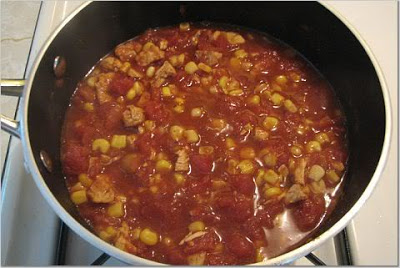 Preparation time : 45 mins. | Serves 4 persons
This chicken chili recipe is prepared in dutch oven which produces better taste while simmering as it provides even heating. It can also be prepared in stock pot or any other sauce pan but it is better to cook in good quality dutch oven.
Ingredients:
1 tbsp vegetable oil
2 medium size onions (roughly chopped)
2 cloves garlic (minced)
1 1/2 tbsp red chili powder
2 tsp oregano
1 tsp cumin powder
1 tsp coriander powder
1 tsp crushed cayenne
500 gm chicken mince
1 cup tomato paste
1/2 cup medium salsa
1 cup fresh boiled corns
Salt to taste
Chopped coriander for garnishing

Procedure:
1. Take a dutch oven and saute garlic and onions together for just 3-5 mins.
2. When onions become light pink in color, add other spices including red chili powder, oregano, cumin, coriander, crushed cayenne and half cup of water. Stir continuously and cook for 5 mins more until all the spices mix well with onions.
3. When oil starts bubbling add chicken to the gravy and cook on high flame until chicken becomes white in color.
4. Now add rest of the ingredients in chicken i.e. tomato paste, salt , salsa, corn and one cup of water. Cook them together on medium heat by covering the lid of your dutch oven and simmer for 20-30 mins until all flavors blend together and a fine gravy of chicken would form.
5. Take out the spicy chicken chili in beautiful serving platter and garnish it with chopped coriander leaves.