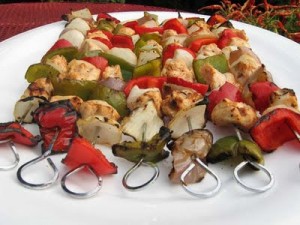 Preparation time : 45 min. | Serves 8-10 persons
This shish kebab recipe is prepared with chicken cubes thus needs lesser time for preparation as compare to beef. If you want to make these kebabs with beef then you will have to double the quantity of papaya paste and marinate for overnight, also the cooking time of beef will be more than that of chicken. You may also prepare these shish kebabs on griller instead of grill pan to enjoy bbq flavor.
Ingredients:
1 kg boneless chicken or beef (cut into cubes)
¼ cup olive oil
¼ cup lemon juice
1 tsp roasted ground cumin
1 tsp red pepper flakes
1 tsp five spice powder
1 tbsp raw papaya paste
2 tbsp garlic cloves (minced)
½ tsp paprika powder
Salt to taste
2 medium green or red capsicums (cut into cubes)
2 medium onions (cut into cubes)
3 mushrooms (cut into thick slices)
Procedure:
1. Mix chicken with papaya paste and leave as it is.
2. Prepare marinade for chicken by mixing olive oil, lemon juice, garlic, red pepper, paprika, cumin, five spice mix and salt. Take out ¼ of the marinade in another mixing bowl.
3. In remaining marinade add chicken cubes, mix well and leave for 15-30 min.
4. Add veggies to the reserved ¼ cup marinade and set aside.
5. After that in skewer insert chicken cubes and veggies alternatively. Heat oil in grill pan for frying, place skewers onto the grill pan and cook over medium low heat. Turn the sides after 2-3 min so that veggies and chicken cook evenly from every side.
6. Take out the skewers on the serving platter and serve with pita bread.
photo source : 1