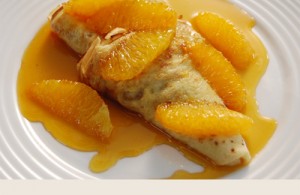 Preparation time : 30 mins. | Serves 4 crepes
Crepe Suzette Recipe is one of a famous French dessert prepared with plain crepe and orange sauce called Suzette. The recipe is very simple and easy to prepare but tastes delicious. You may also serve it with scoop of vanilla ice cream.
Ingredients:
For Crepe:
½ cup plain flour
1 egg
1-1½ cup milk
¼ tsp salt
1 tsp orange zest
For Suzette Sauce:
4 oz butter
¼ cup sugar or to taste
1 cup fresh orange juice
1 tbsp orange zest
½ cup whipped cream
Procedure:
1. To prepare crepe batter combine all the ingredients mentioned for making crepe and whisk well to make it uniform.
2. Take a nonstick pan or crepe pan grease it lightly with butter and heat it.
3. Pour a ladle full with the crepe batter onto the pan and move the pan in circular direction to spread the batter evenly and make thin crepe just like you d for making pancakes.
4. When the crepe gets bubble all around the surface, turn it and cook until become light golden. One crepe takes around 1-2 mins. to cook.
5. To prepare sauce, heat butter in a pan, add orange juice, sugar and zest and cook till the sauce gets bubbly and slightly thick.
6. When the sauce is ready, add the whipped cream in it and stir well to mix.
7. Fold each of the crepe in four layers, place them onto the serving platter, drizzle the prepared suzette sauce and place some peeled orange wedges.
photo source : 1